By Dennis McLaughlin
Annual Meeting
GESHA's Annual Meeting will take place Monday, February 5, 2018, 7 pm – 9 pm. It will held at the Church of the Nazarene at the corner of 87th Street Parkway and Rosehill. Where it has been for the last several years. A mailed notice will arrive any day. I will also be sending an email to residents next week with additional information and agenda points.
Salute To Serrone
It is not my intention to use this Blog to air my political views. Except this one time. So I would like to give a shout out to Lou Serrone who served Lenexa's Ward 3 as a city council member for many years. He lost his seat in last November's election, but right before that Serrone played an influential role in blocking the development of the proposed car wash operation adjacent to Greystone Estates South property. From my perspective, he seemed to fully understand the concerns of many Greystone residents as well as those of other commercial entities in the area. The councilman kept me apprised of the situation, so we as a neighborhood could focus our opposition and plan a response.
Yard Waste
Yard waste has emerged as a real thorn, particularly this past December. To summarize: Yard waste services were mandated by municipalities several years ago, and it was stipulated that neighborhood primary waste management companies were responsible for yard waste removal – either by hauling it away themselves or contracting with a waste carrier to make the pickups. Our primary service Allied hired another area company to pick up the yard waste. A year ago our Allied rep told me if problems arose with the yard waste haulers I should let him know about it. He asked me not to deal directly with the yard waste company. So every time I have informed Allied about a problem, a resolution appears to have been reached. But only to be breached. After a number of incidents this fall, I talked several times directly with the yard waste crews (not the office) about what and what not would be picked up, how many bags and so on, and if Christmas trees would be picked up. I also spoke with our Allied rep to confirm the following arrangements:
That the number of bags picked up would increase to 12, while yard waste in wheeled containers would no longer be collected. And 12 bags were picked up – at least for me.
That yard waste would be picked up through November and "probably' through December. Both parties – the yard waste crews and Allied – corroborated this.
That Christmas trees would be picked up in January, but neither party would say when or for how many weeks.
Then two or three weeks ago I noticed yard waste crews were not picking up 12 bags. They were leaving notes on the remaining bags beyond their 'new' limit – presumably explaining some 'new' restrictions or rules. I left our Christmas tree on the curb last week, but it was not picked up. So we'll revisit the situation with the carriers.
Garage Sales
The 2018 semiannual garage sale events are tentatively scheduled for Friday and Saturday May 18, 19 and September 21, 22. Please let us know if you would prefer other dates. We would appreciate additional input. And let me throw out this suggestion: It would be great if someone in the neighborhood would lead a group of garage sale enthusiasts to drum up more enthusiasm for the event. Participation has waned over the last few years. The Board will gladly support such a group.
Large Item Pickup
If new schedules follow old patterns, 2018's Large Item Pickup will take place Saturday June 16. As usual it is best to get your items to the curb the night before, since the carriers like to get an early start.
'Extreme' DIY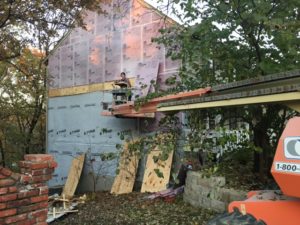 My family and I have witnessed a few major construction and renovation projects over our 30- year-span living in Greystone Estates South. There was the construction of a handsome contemporary home at the bottom of our 84th Street cul de sac nestled in the ravine overlooking the creek and 83rd Terrace when we first moved in. And a couple of other projects. But the project Tim Gerber undertook to re-side his house single-handedly has got to go in the books as an example of Extreme Do It Yourself-ism. Gerber even rented and operated a heavy articulated boom lift to reach the heights of his house on West 84th Street. You would think with that sort of technical skill he might be a construction or civil engineer. Instead, Tim has a degree in Computer Science from the University of Michigan (2002), worked at Cerner for 8 years and currently is a Systems Database Architect with Garmin. But as a youth he acquired plenty of construction savvy and experience growing up in Toledo, Ohio, where his parents owned more than 50 rental properties. "I spent my summers working with them to maintain the properties," Gerber says, "doing a little bit of everything including mowing grass, painting, plumbing and some roofing."